There is no food that screams summertime more than hot dogs, especially when they are grilled on a TEC Grill! From backyard barbeques to baseball games to camp-outs, you will find the unmistakable smell of cooking sausages wafting up from grills all summer long. Once you see those hot dogs blistering and charring on the grill, you just can't help but grab one and eat it! So it's no surprise that July, right in the middle of summer, is National Hot Dog month.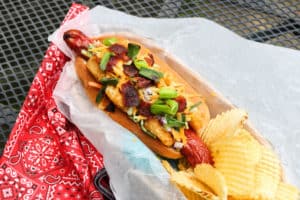 The great thing about hot dogs (and sausages in general) is that they are really easy to grill. They are usually pre-cooked, so you just need to heat them up, toast the bun, and add your favorite condiments. This makes them a perfect food for when it is too hot to spend a lot of time cooking or grilling, which is typical of our summer here in South Carolina (the home of TEC Grills).
The most common way of dressing a hot dog is simply with ketchup and/or mustard. But a hot dog or sausage is really a blank slate, with a flavor that works well with so many other ingredients and toppings. So we decided to think outside the bun, and create some recipes inspired by your favorite foods. From a Hawaiian pizza sausage dog to a loaded baked potato hot dog to even a cheeseburger dog, our recipes will have you barking for more! Sorry we couldn't resist…
Any way you top them, grilling hot dogs on your TEC Grill is the same no matter what variety of hot dog you make:
Preheat grill on medium-high heat (unless the hot dogs are bacon-wrapped, then stick with medium).

Have all ingredients, including buns, ready to go.

If you like your hot dogs to be a little crispier, and to make sure they cook evenly, use a sharp knife to spiral cut them. Here's a step-by-step tutorial.

Place hot dogs on the grill, and cook until heated through, and browned (about 3-5 minutes for thin dogs, and 8-10 minutes for thicker sausages).

Brush buns with a little oil or butter, and grill until lightly toasted and browned.

Pull off the grill, and dress with one of our suggestions below.
If you have our Commercial-style Griddle accessory, you can also griddle the hot dogs and buns for a true hot dog cart taste!
---
HAWAIIAN PIZZA SAUSAGE DOGS
Inspired by all your favorite flavors on a Hawaiian pizza, this sausage dog is so good it will end the pineapple on pizza debate! Start with a bacon-wrapped sausage, preferably a sweet chicken or Italian sausage. Top it with a grilled pineapple salsa, some chili garlic ketchup, and melted mozzarella cheese.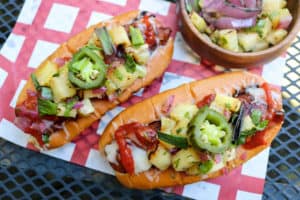 1/2 cup pineapple slices, drain if using canned slices
1/2 small red onion, sliced into rings
1 jalapeno
Canola oil
2-3 green onions
1/4 cup fresh cilantro, chopped
1 lime, juiced
1/4 cup ketchup
2 tablespoons chili garlic sauce (use more if you want the sauce spicier)
4 chicken or sweet Italian sausages
8 slices pre-cooked bacon
4 top-split hot dog buns
1/2 cup mozzarella cheese, finely grated
Preheat grill over high heat for 10 minutes.

Drizzle canola oil all over pineapple slices, red onion, and jalapeno.

Lay the pineapple, red onion, jalapeno, and green onion on the hot grill, and grill just until charred and grill marks show.

Remove fruit and vegetables from the grill, and let cool slightly. Turn grill down to medium heat.

Dice the pineapple, and chop the remaining ingredients. Place in a small mixing bowl, and add the cilantro and lime juice. Season with salt and pepper and set aside.

In another small bowl, combine the ketchup and the chili garlic sauce. Set aside.

Carefully spiral wrap two slices of the bacon around each hot dog. Secure the bacon with toothpicks.

Preheat a broiler or toaster oven on high.

Place the hot dogs on the grill, and cook until hot dogs are warmed through and bacon is crispy all around, about 10 minutes.

Remove the hot dogs from the grill, and place in the buns.

Sprinkle some of the mozzarella cheese on top of the hot dogs, and place in the hot oven. Broil until cheese is just melted.

Remove hot dogs from the oven, and top with the spicy ketchup and pineapple salsa. Serve immediately.
---
LOADED BAKED POTATO HOT DOGS
This hot dog tastes just like a fully loaded baked potato! Start with a thin bun-length hot dog, and top with a broccoli slaw dressed with a buttermilk sour cream dressing. Add some crumbled bacon, grilled green onions, and cheddar cheese. Little hash brown rounds stuffed into the sides of the bun add crispy potato flavor, or you can use French fries or regular hash browns too.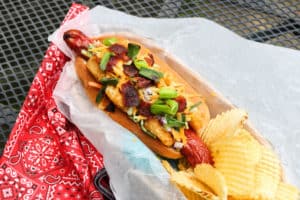 1/4 cup sour cream
1 tablespoon buttermilk powder
1 teaspoon Dijon mustard
Splash of apple cider vinegar
1 clove garlic, grated or pressed
1 tablespoon fresh chives, chopped
1 tablespoon fresh parsley, chopped
1 cup pre-chopped broccoli slaw mix
1 tablespoon red onion, diced
2-3 green onions
4 bun-length hot dogs
4 top-split hot dog buns
2-3 slices bacon, cooked and crumbled
Cheddar cheese, grated
About 24 frozen hash brown potato rounds, baked
Combine the sour cream, buttermilk powder, mustard, vinegar, garlic, chives, and parsley in a small bowl. Stir to combine, and season with salt and pepper.

Place the broccoli slaw mix and red onion in a medium mixing bowl. Add some of the sour cream dressing to the bowl, and toss lightly to coat the broccoli slaw. Note that you may not use all of the dressing. Set aside.

Preheat grill on medium-high heat for 10 minutes.

When the grill is hot, place the green onions and hot dogs on the grill. Grill just until onions are charred, and hot dogs are warmed through and browned, about 10 minutes.

In the last few minutes of grilling, place the buns on the warming rack of the grill to heat them up.

Remove everything from the grill. Roughly chop the green onions, and place the hot dogs in a bun.

Top the hot dogs with some of the broccoli slaw, bacon crumbles, cheddar cheese, and grilled green onions. Tuck the potato rounds into the bun along the sides of the hot dog, using about 6 per hot dog. Serve immediately.
---
CHEESEBURGER DOGS
Why not shape a burger patty into a hot dog shape, fill it with cheese, and stuff into a hot dog bun? Once you try it, you may never go back to flat round patties again!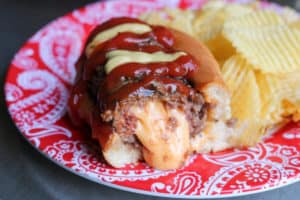 1 pound ground beef
8 slices American cheese
4 hot dog buns
Ketchup
Mustard
Mayonnaise
Preheat grill over medium heat for about 10 minutes.

Divide ground beef into 4 portions. Shape each piece into a rectangle roughly the length of the hot dog bun.

Cut each slice of cheese in half. Place 4 halves (that is, 2 full slices) in the center of each piece of meat. Fold the meat over the cheese length-wise to completely enclose the cheese in the meat, creating a hot dog shaped burger. Season burger dogs all over with salt and pepper.

Place the burger dogs on the hot grill, and cook until meat is medium and cheese is melted, about 8-10 minutes.

In the last few minutes of grilling, place the buns on the warming rack to heat through.

Remove the dogs and the buns from the grill.

Place a burger dog in each bun. Dress with your favorite condiments, just like a hot dog!
What's your favorite Hot Dog recipe? Share with us by commenting below, or tagging your pictures with @tecgrills.