A question we often get is "how do I clean my TEC grill?" The answer is actually a lot easier than you might think! Because TEC Grills are made in America from 304 stainless steel and quality parts, they are meant to last a lifetime with very little maintenance. Or even handed down from generation to generation as a cherished family heirloom!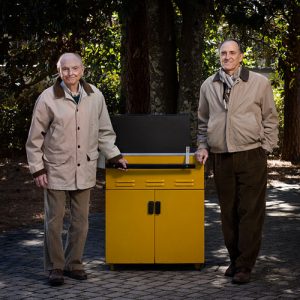 There are two main methods for cleaning your TEC Grill. The burn-off procedure should be performed every time you use your grill. Every once in a while, or when there is built up food debris or ash on the glass panels, it is a good idea to give your grill a little extra deep cleaning in order to keep your grill in tip-top shape.
Here's the step-by-step for both methods:
BURN-OFF PROCEDURE
1.  Light all of the burners in your grill, and turn the burner control knobs to high.
2.  Close the hood, and wait 10-15 minutes to ensure that all food drippings and debris are incinerated.  All that will be left is ash.
3.  Turn off the burners, and use our Grate Rake to clean the grates. Allow your grill to completely cool.

4.  Once the grill has cooled, carefully remove the grates and scoop out the ash and remaining debris off the glass panels using the Grate Rake tool. Except for appearance, it is not necessary or required to remove every particle from the glass surface.

5.  You may also wipe the glass with a dry or damp cloth, as well as the cooking grates, although this is not necessary.   Do NOT take the glass panels out of your grill to clean them!
DEEP CLEAN PROCEDURE
1.  If you would like to further clean the glass panels, you can use a ceramic cleaning cream such as:

It is Important to note that you should not use scouring pads or abrasive or corrosive cleaners or sponges on the glass plates!
2.  To clean the stainless hood and panels, use an ammonia based glass cleaner (such as Windex), and a soft cloth to wipe away grease and splatter.

3. If you have any bits that are really baked onto the stainless, we have found good results with a metal polish such as Brite Works Metal Polish. Just rub it onto the stainless, let sit for a few minutes, and then buff away. You can see in the image below, before (on the left) and after (on the right) using the polish.

4. Don't forget to check the drip tray from time to time as well. Especially when smoking, roasting or barbequing on low, drippings and debris burn off slowly, and some grease may even reach the drip tray. Be sure to wipe off any grease from the drip tray in order to avoid a grease fire. You can use the flat end of the Grate Rake to help scoop up the grease.

4.  To clean the grates, use the Grate Rake to remove most of the food particles. The Grilling Stone is also a great all-natural way to clean the grates as well.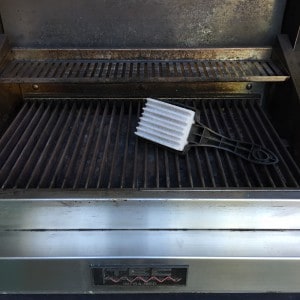 That's all there is to it, and now you are ready to enjoy your grill all year long!  For more information and support for your TEC Infrared Grill, be sure to read our Using Your Grill FAQs!