Here at TEC Infrared Grills, we grill just about every day all year-long.   But for most, Memorial Day signals the official start to the grilling and summer season. So it's time to pull the cover off the old grill (hopefully a TEC Grill!), give it a nice cleaning, and get ready for a summer of meals deliciously flavored with that irresistible charred taste that you can only get from cooking over a flame. Or in our case, from cooking over our infrared panels that get so hot that they incinerate drippings from the food, giving it that same grilled taste without having to use charcoal.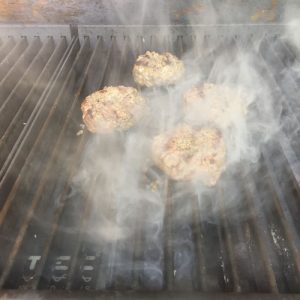 While it may be contested as to who actually invented the creation of two minced meat patties stuffed between two slices of bread, aka the hamburger, there is no question that this dish is an iconic American food legend. It will be served this Memorial Day at a countless number of cook-outs, from backyard BBQ's to mountain camp sites. The classic combination of meat, cheese, lettuce, tomato, and some kind of condiment is no doubt just perfect, why don't you give one of these other burger variations a try this year!
Grilling burgers on your TEC Grill is the same no matter what variety of burger you make:
1. Preheat grill on medium heat.
2. Have all ingredients, including burger patties and buns, ready to go.
3. Place burgers on the grill, and cook until desired temperature (usually anywhere from 3-5 minutes for sliders, to 8-10 minutes for full size patties). Beef is best cooked to medium-rare or medium to stay the juiciest, while pork and fish you want to cook all the way through.
4. Add cheese or toppings to the burgers after you flip them over.
5. Brush buns with a little oil or butter, and grill until lightly toasted and browned.
6. Pull off the grill, and dress with one of our suggestions below!
If you have our Patio FR Griddle accessory, you can also griddle more delicate burgers, such as fish burgers. It helps hold them together better, as well as adds more of a fast food flavor.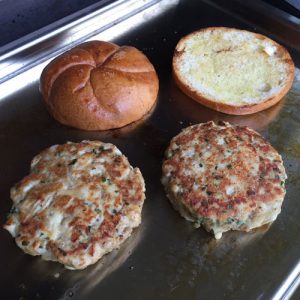 Pimiento Cheese, Bacon, and Jalapeno Sliders
A better cheeseburger! Since the flavor of the spicy bacon pimiento cheese is so rich, this burger is best as a 1-inch slider on a soft grilled mini potato roll.
After pulling the burgers and buns off the grill, top with the following:
-A spoon of home made pimiento cheese. For a delicious basic pimiento cheese recipe, check out this one from Southern Living.
-Chopped cooked bacon crumbles.
-2-3 slices of fresh jalapeno. Remove the seeds and ribs for less heat.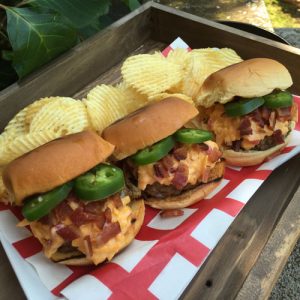 Italian Sausage, Peppers, and Onions Burger
This burger is reminiscent of a sausage and peppers hoagie, but just in burger format.   Use fresh Italian sausages, remove the casings, and form into patties. Melt sliced mozzarella cheese on the burger while grilling, and serve on a Ciabatta roll or Italian bun. Place fresh rosemary sprigs directly on the grill grates to infuse the meat with a subtle rosemary flavor.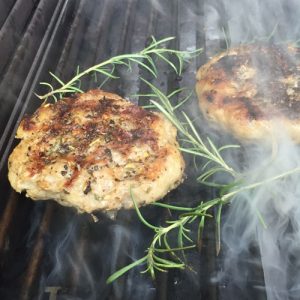 After pulling the burgers and buns off the grill, top with the following:
-Grilled red, orange, yellow and/or green bell peppers.
-Grilled onions.
-Sprinkle of Italian seasoning.
-Drizzle of garlic infused olive oil.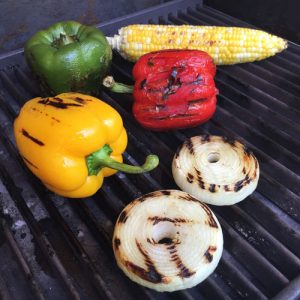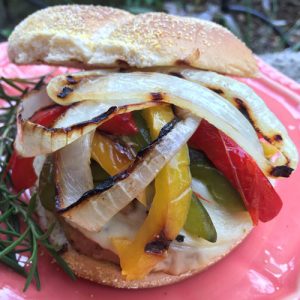 Mexican-style Mahi-Mahi Burgers
Hand chop fresh mahi-mahi fish filets and mix with a variety of herbs and spices (recipe below) for a serious upgrade on the typical fish burger. The addition of a grilled corn salsa, avocado, and chipotle mayonnaise gives this burger a distinctively south of the border flavor. This burger is best served on a Kaiser roll.
After pulling the burgers and buns off the grill, top with the following:
-Fresh spinach leaves.
-Avocado slices.
-Grilled corn salsa: grill corn, and mix with chopped tomatoes, chopped fresh cilantro, and sliced green onions.
-Chipotle mayonnaise: mix together some mayonnaise with a small amount of pureed chipotles in adobo sauce.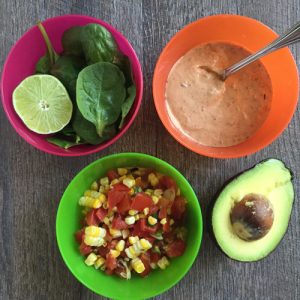 Mexican Style Mahi-Mahi Burgers
Author:
Ingredients
1/2 pound mahi-mahi filets, diced
1/4 cup plain bread crumbs
1 tablespoon chopped fresh cilantro
1 tablespoon ground cumin
1 teaspoon garlic powder
1 teaspoon cinnamon
1/2 teaspoon cayenne powder
Zest of 1 lime
1 egg
Pinch of salt and pepper
Instructions
Gently mix all ingredients together in a large mixing bowl until well combined.
Form into patties, and place in refrigerator until ready to grill.
For even more delicious burger ideas, take a look at these recipes:
Buzz Feed – 19 Burgers You Really Need to Make This Summer
Food Network – Best Burger Recipes
All Recipes – BBQ & Grilled Burger Recipes