The big game is almost here! Which means it's time to gather a big crowd around the TEC Grill for a watch party, and of course we're on your team when it comes to figuring out what to grill for those hungry guests.
Game day parties call for finger food, appetizers, and small plates. It's much easier to manage smaller bites while you are sitting in front of the TV, standing around chatting, or tending to the grill. It also much easier on you, the host, if you set out a buffet with a wide assortment of dishes that can last through all four quarters plus the half-time show!
Use chafing dishes and crock-pots to keep hot things hot, and trays lined with ice to keep cold things cold. That way, you can set everything out right when guests start to arrive. This keeps you from having to spend the day tending the grill (unless you want to!), so you can sit down and enjoy the game with your guests.
To help manage the menu, come up with a theme for the food. Everyone loves Mexican and Tex-Mex recipes, so a Fiesta party is one of our favorite themes. It lends itself very easily to grilling the entire menu on your TEC Grill, which means your kitchen will stay clean too.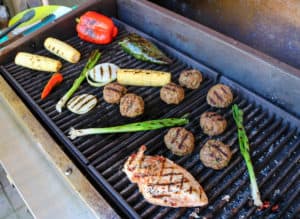 In addition to our favorite Mexican game day grilling recipes below, round out your buffet with these ideas:
Chorizo, Rice, and Pepper Jack Stuffed Peppers
Grilled Skirt Steak Quesadillas with Tomatillo Sauce
And of course, don't forget the margaritas, micheladas, and cold beer to go alongside the food!
Pulled Chicken Taco Boats
Taco boats are much easier to manage at a party than a taco shell. Put out all the toppings on a buffet, and let your guests dress their own boat.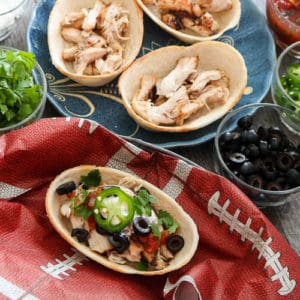 2 chicken breasts (either boneless or bone-in)
1 cup prepared chunky salsa, plus more for serving
1 package flour tortilla taco boats
Avocado
Sour cream
Cheddar cheese
Cilantro
Sliced black olives
Jalapeno peppers, fresh or pickled
1. Place the chicken in a large ziptop bag, and add the 1 cup of salsa. Close bag, and turn over to coat chicken completely with the salsa.
2. Marinate for 30 minutes to 1 hour in the refrigerator.
3. Preheat the grill on medium heat with the hood closed.
4. When the grill is hot, remove the chicken from the bag and place on the hot grill (discard the salsa). Grill until the chicken is cooked through and the internal temperature is 160 degrees F.
5. Remove chicken from the grill and let cool slightly.
6. When the chicken is cool enough to handle, pull the meat from the bones and shred.
7. Warm the flour tortilla boats in the oven, and heat the refried beans.
8. Set out all the ingredients, and let guests assemble their own.
Hot Grilled Corn and Chile Dip
You have to have some kind of hot, gooey, cheesy dip at a game day party! This version will not disappoint, as it gets an extra boost of flavor from grilling the corn and chiles ahead of time. Can't find poblanos? Go with whatever chile you have available. Serve with Fritos, tortilla chips, or even try it with pork rinds!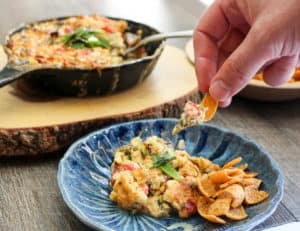 6 ears corn, shucked
4 poblano peppers
1 red bell pepper
4 green onions
8 ounces sour cream
8 ounces white cheddar, grated
1 clove garlic, minced
1/2 lime, juiced
1 tablespoon hot sauce (or more if you want it spicier)
1. Preheat grill on high heat.
2. When the grill is hot, place the corn, peppers, and green onions on the grill.
3. Grill, turning occasionally until charred all over. Remove from the grill. Turn grill down to medium-low heat.
4. Place peppers in a small bowl and cover with plastic wrap. Set aside for 10 minutes.
5. Cut kernels off the corn cobs and place in a large mixing bowl.
6. Roughly chop the green onions and add to the corn.
7. When peppers are cool enough to handle, remove skin and seeds and roughly chop. Add to the corn mixture.
8. Add the sour cream, cheddar, garlic, lime juice, and hot sauce to the corn mixture. Season to taste with salt and pepper.
Mexican Meatballs in Adobo Sauce
Skip the traditional meatballs in BBQ sauce, and go with these spicy little meat bites in earthy adobo sauce. Keep them warm during the game in a crock pot, and serve with fresh mini tortillas, mini pita, or even on small Hawaiian rolls.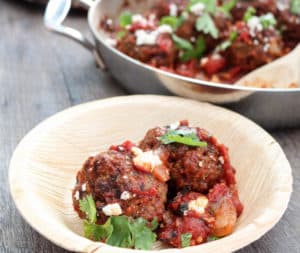 Adobo Sauce
1 white onion, sliced into large rounds
1 red chile pepper
1 tablespoon canola oil
2 cloves garlic, minced
1 teaspoon ancho chile powder
1/2 cup chipotle salsa puree
1 (14-ounce) can fire roasted tomatoes
Meatballs
1 pound ground beef
1 egg, beaten
1/2 cup fine bread crumbs
1/4 cup Cotija (or parmesan) cheese, finely grated
1/4 cup fresh cilantro, finely chopped
2 cloves garlic, minced
1 tablespoon ground cumin
1 teaspoon oregano (preferably Mexican)
1 teaspoon salt
1/2 teaspoon black pepper
1/4 teaspoon cayenne powder
Cilantro, roughly chopped
Queso fresco, feta, or goat cheese crumbled
1. Make the sauce first. Preheat the grill on high heat.
2. When the grill is hot, place the onion and the pepper on the grill. Grill until softened and charred in places. Remove from the grill and roughly chop.
3. Heat a sauté pan over medium heat. When the pan is hot, add the canola oil to the pan.
4. When the oil is hot, add the onion and pepper to the pan. Saute until the onion starts to brown.
5. Add the garlic and ancho chile powder to the pan, and cook just until fragrant.
6. Add the adobo sauce, chipotle peppers, and tomatoes. Stir to combine. Bring to a simmer, and cook until slightly reduced, about 5 minutes. Keep sauce warm while making the meatballs.
7. Make the meatballs. Combine the ground beef, egg, bread crumbs, cheese, cilantro, garlic, cumin, ancho chile powder, oregano, salt, pepper, and cayenne in a large mixing bowl. Using your hands, gently fold to combine.
8. Form the mixture into meatballs about 2 inches round.
9. Preheat the grill on medium-high heat.
10. When the grill is hot, place the meatballs on the grates. Grill, turning occasionally until browned all over.
11. Remove the meatballs from the grill, and add to the sauce. Simmer for about 5 minutes to allow flavors to meld and meatballs are cooked through.
12. When ready to serve, garnish with the green onions and cheese.
What's your favorite recipe to make when watching the big game? Share with us in the comments, or tag us on Instagram @tecgrills!